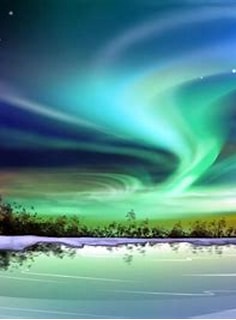 On 27th January 2023 Sheila Hart presented a wonderful array of "Holiday Photos", ranging from the Jewish Quarter in Prague, through Norway & the Arctic Circle, North Cape taking in the Northern Lights, South America and a trip to the Falklands which proved so informative. The wonders of Singapore certainly deserved further viewing. The highlight was without doubt the magnificent close-up shots of the whales while cruising the inner passage to Alaska. Sheila's obvious enthusiasm for her holidays certainly left us wanting more.
___________________________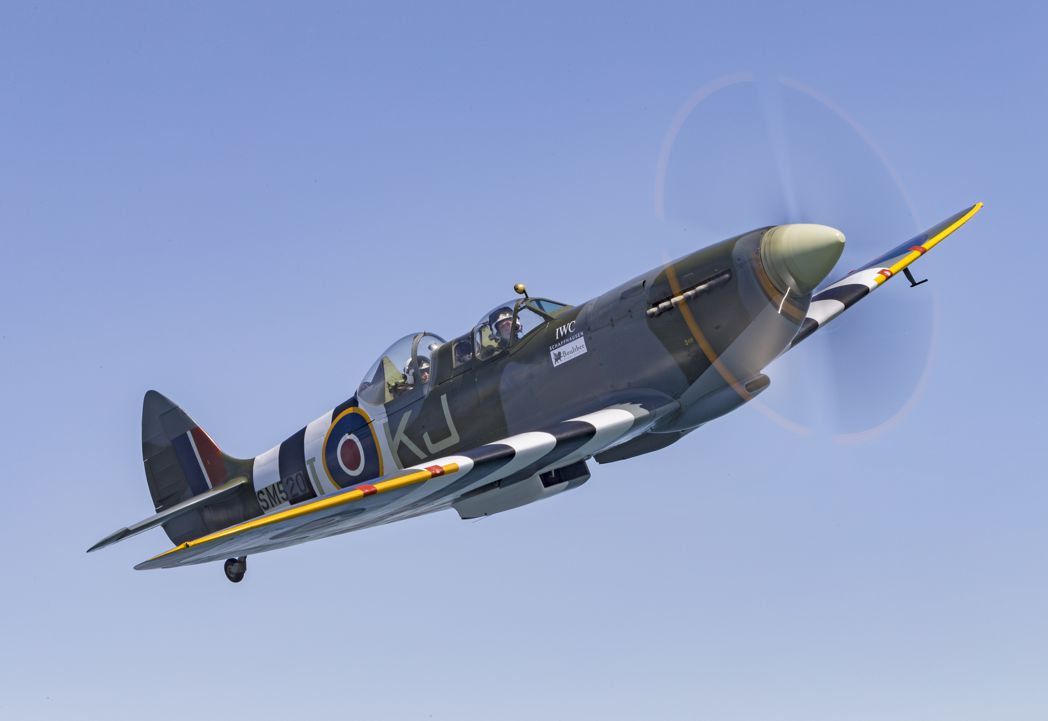 On Februay 11th John Hart gave us 2 video presentations
.
Video 1 was about the funding of the Spitfire manufacture during World War 2
In addition to those manufactured under government funding, donations to fund and name Spitfires were made by individuals home & abroad plus various crowd funding organisations.
The aircraft did not have any armaments when they left the factory,This was carried out by the Air Ministry and the RAF
Video 2 (Due to time constriction's this was not completed)
This was about the origins of the spitfire particularly the Wing shape. and the influence of the Schneider Trophy winning seaplane
___________________________
On February 25th 2023 Probus Club of Sarum welcomed author David Bickerton who had a riveting as well as heart-warming story to tell.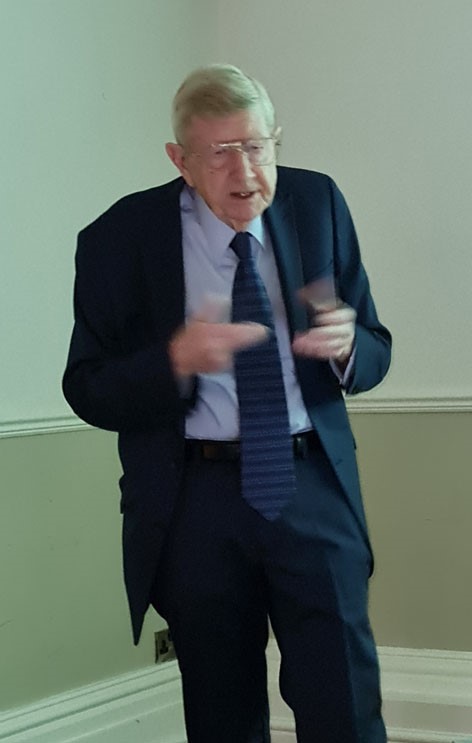 The actors were his father and mother against the backdrop of World War II. David put the story together based on their surviving 143 love letters.
His father Don was a civil servant who joined the Navy as a 22 year old volunteer in 1939. He took part in the Dunkirk evacuation as member of RNVR. This was followed by the sinking of the Bismarck on the cruiser Dorsetshire.
David's mother, Linda, joined as a 20 year old volunteer the WAAF in 1941. She became a radar operator serving eventually at five different RAF stations.
Don and Linda first met briefly in 1942and could only keep in touch through correspondence.
After promotion to Lieutenant Don took command of a minesweeper joining the 25th Flotilla bound for Gibraltar. Minesweepers had to form the spearhead for beach landings. During his war service Don was therefore part of six allied landings from the first in North Africa to the last in the South of France. There he and his crew were welcomed and celebrated by the local resistance who provided the ship's crew with a "Pact of Friendship". Many years later David was able to retrace his father's steps and provided the mayor and town with a copy of his book.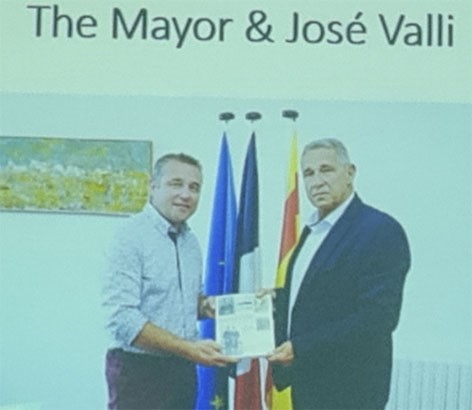 Throughout these tumultuous times Don and Linda were only able to keep in touch through their letters and quite sporadically during the last year of the war until July 1945. Don was able to propose marriage via telegram to Penzance. Their marriage last 65 years until Don's death aged 90.
_________
Flying Boat Adventures – Probus Club of Sarum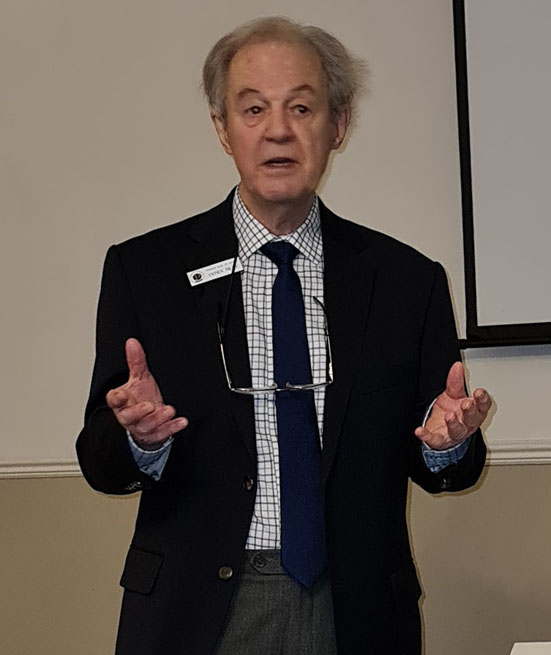 On 24th March 2023 Probus Club of Sarum were treated to Sunderland flying boat adventures by club member Derek Riley. Derek opened his navigator's logbook for us and took us back to the 1950s.
His story started with an old school friend making him aware of the Forces' preselection procedure. Once passed he would be eligible to become aircrew during his National Service. In 1953 Derek decided therefore to join the RAF after he had promised his mother not to become a pilot on account of the dangers involved.
His navigator training included a Canadian Pacific 1st class cruise to Canada for an extended training course. Then navigators had neither sat nav nor radio aids at their isposal.
Eventually Derek was based at Pembrokeshire flying boats while the remainder of his squadron were all in Singapore.
In late 1956 the RAF was looking for volunteers to transfer reconditioned Sunderland flying boats to Singapore, four engine double deck planes with 11 crew.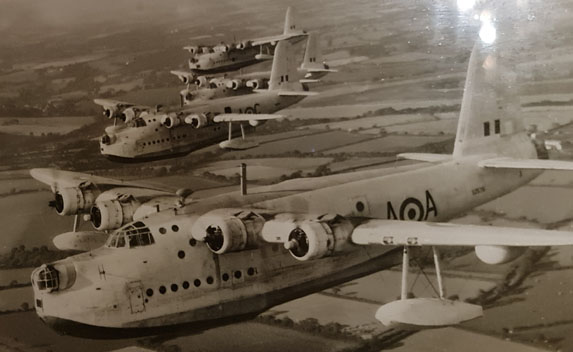 On Feb 9, 1957 he boarded his Sunderland at Pembroke Dock. With a cruising speed of only 135 mphr, numerous stops for refuelling and repairs as well as detours enforced by diplomatic and political difficulties it took 15 days to reach Singapore. Net flying time was 56 hrs 20 minutes!
Their route took them via the South of France, Malta, Tobruk Harbour, Lake Habbaniyah near Bagdad, Bahrain Yacht club, Pakistan, Ceylon (Trinkamalee) and Gan (Maldives).
Based in Singapore Derek and his crew were engaged in both anti-submarine operations as well as night time bombing missions against insurgents in Malaya. We were assured that there was also agreeable "down time" around Singapore including in Raffles.
It obviously was attractive enough for Derek to volunteer for a second transfer tour lasting from June 13 to July 9 with 90 hour net flying time.
______________________________
Bloodhound, a British engineering adventure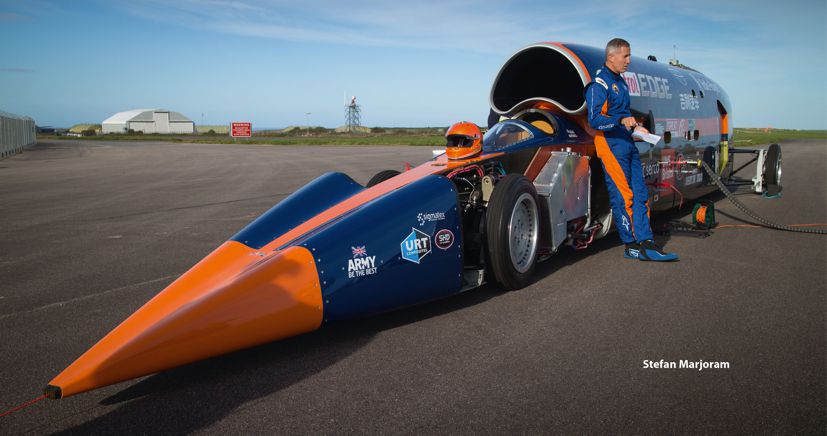 On 14th April Club member Alan Frener treated us to a presentation about an exciting British engineering adventure: Bloodhound – The world's most advanced straight line racing car, on a hunt for The World Land Speed Record. The first record dates back to 1898 - Jeantaud Duc – Electric, established by Gaston de Chasseloup-Laubat at 39 mph.
From the 1920s on this was followed by a long line of British record holders culminating in Andy Green's 1997 record of 763mph with Thrust SSC. Thrust SSC used two RR Spey engines. In the early 2000s rumours started of American and Australian preparations to attempt to better this record.
This led to the formation of Project Bloodhound. In October 2008 Lord DDrayson announced the project at the Science Museum. The project was conceived as a leading edge technology project to inspire and to educate. It brought together illustrious names of British academia and industry eventually including Swansea University, University of West of England , Rolls Royce and many others. Bloodhound led among other achievements to advances in rocket engine construction. Its website, exhibitions and educational events reached more than 2 million school pupils bringing the STEM subjects nearer to them.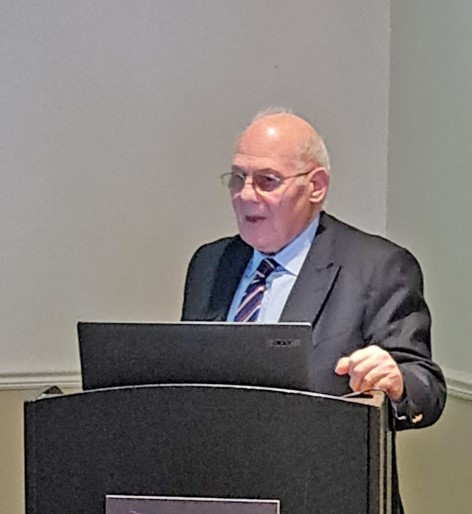 Alan's enthusiastic talk provided a unique insight for the audience as he had been one of the key participants over the years filling the role of Senior Ambassador for the project team.
On 17th November 2019 Bloodhound achieved its target of 600 mph. 0 to 628 mph in 50 seconds in the South African dessert. However, funds ran out and the final record push has had to be postponed indefinitely.
__________________________
Griffons, Merlin's, Spitfires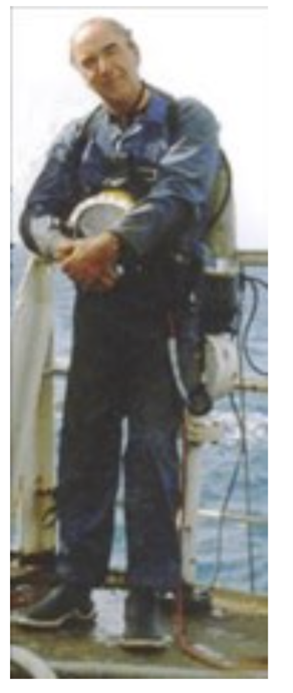 On 11th May the Club was able tob> welcome back Kevin Patience for a talk on how he found, dug up and identified a spitfire in Malta.

Kevin grew up in Kenya and joined as a Boy Entry the RAF in 1961. In addition to flying training and navigation school he was trained as a diver and diving instructor. Diving became very much his passion in addition to his enthusiasm for Spitfires.

In 1967 he was posted to Malta. In addition to his RAF engineering duties he engaged in seabed searches for sunk spitfires.As Kevin explored the underwater world off Gozo, he came across the remains of a World War II-era aircraft. The unmistakable shape and distinct features left no doubt in his mind: after extensive search he had found the Spitfire. Kevin and his team had known their must be a spitfire wreck in the bay. However, drifting sand and prolific seaweed turned it into a very difficult find.

Kevin carefully examined the wreckage, noting the aircraft's (partial) serial number and taking photographs from various angles. He wanted to document his find and share it with the world.

Over the following days, Kevin and his team meticulously researched the aircraft's history. They learned that this particular Spitfire had crashed during a mission in 1942, when it was shot down by enemy fire. The pilot had managed to eject safely, but the plane had sunk into the depths.

Driven by his passion, Kevin collaborated with local authorities and historical organizations to protect and preserve the site. Together, they eventually arranged a comprehensive survey and recovery mission to document and salvage at least parts of the Spitfire.

As word spread about Kevin's discovery, it caught the attention of historians, aviation enthusiasts, and the media. He also engaged with the locals who recalled that they had cut up and salvaged the pilot's parachute in July 1942 while they filled the pilot with wine.

From this information and the partial serial number Kevin and his helpers were able to identify this plane and his pilot, Saunders. The pilot eventually became a test pilot at Castle Bromich and sadly died in a flying accident there.

The recovered spitfire is now on display in the Malta War Museum.

____________________________________


Franz Schubert: A Life in Music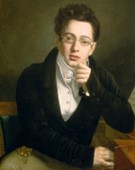 On 28th July, the Club was treated by our committee member Andrew Scarf to the life story of Franz Peter Schubert.
Franz Schubert was born 1797 in the Himmelpfortgrund suburb of Vienna, Austria, during a time when the city was the epicentre of classical music. The youngest of fourteen children, Schubert's family recognized his musical talent early on, ensuring he received formal music education. His father taught him the basics of violin, while his older brother provided instruction on piano. By the age of seven, Schubert was receiving lessons from the local church organist, and by eleven, he had earned a spot in the Imperial Court Chapel choir and the Stadtkonvikt, an established boys' monastery-school, where he studied music, including under Antonio Salieri, a renowned composer of the era.
Schubert's genius truly shone when he began composing. By his late teens, he was already producing masterpieces, such as the song "Gretchen am Spinnrade" (Gretchen at the Spinning Wheel). Throughout his life, though not always well-received in his time, he created a staggering amount of work, including over 600 lieder (songs), nine symphonies, numerous chamber works, and piano compositions. Some of his most iconic works include the "Unfinished Symphony," the song cycle "Die Winterreise," and the piano quintet "The Trout."
While he was prolific, Schubert struggled with the business side of music. Often, he lived in near-poverty, relying on the generosity of friends and patrons. Though he did have a circle of artistically-minded peers and was well-regarded within this group, Schubert was not as widely recognized or as financially successful as some of his contemporaries.
Personal Life and Untimely Death
Schubert's personal life was marked by both companionship and solitude. Due to his poverty he was unable to marry. While there's been speculation regarding his relationships and sexuality, concrete details remain elusive. What's evident, however, is that his social circle was integral to his well-being. The informal gatherings known as 'Schubertiades' were musical evenings where friends would gather to perform his works.
Tragically, Schubert's life was cut short. By 1822, he began showing symptoms of syphilis, a then-incurable disease. While he continued to compose remarkable music during this period, his health steadily declined. On November 19, 1828, at the age of 31, Franz Schubert passed away, leaving behind an unparalleled legacy of compositions that would only gain their full recognition posthumously.
Legacy
In the years that followed, Schubert's works were championed by notable figures such as Robert Schumann, Johannes Brahms, and Franz Liszt. Today, he is celebrated as one of the pillars of Western classical music, with his songs, in particular, being hailed for their emotional depth and beauty. Schubert's ability to capture the nuances of the human experience, coupled with his unique melodic gifts, has solidified his place as a timeless composer, whose music continues to touch hearts around the world.
_______________________________
The Falklands War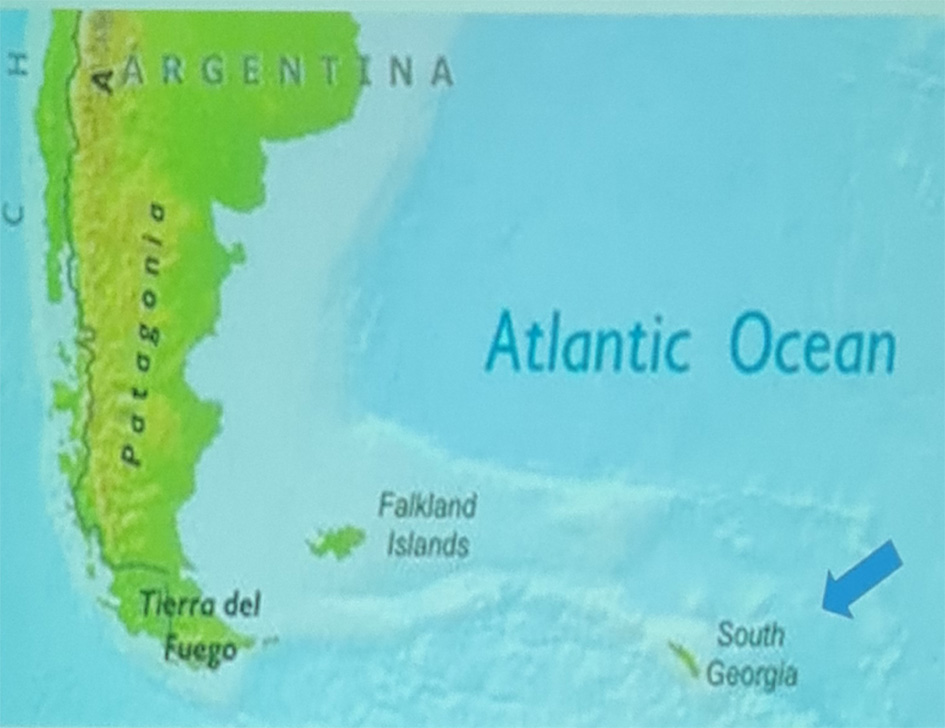 On August 25th James Porter gave the club a well-illustrated overview of the Falklands War including fascinating details.
The speaker was stationed at Port Stanley one year after the conflict and was thus able to combine a strategic overview of the campaign with local detail.
The 10-week conflict between Argentina and the United Kingdom over the two British dependent territories in the South Atlantic: the Falkland Islands and South Georgia and the South Sandwich Islands began on April 2, 1982.
Argentine forces, eventually 12000 strong, invaded and occupied the Falkland Islands, followed by the invasion of South Georgia the next day. The British government responded by dispatching a naval task force to engage the Argentine Navy and Air Force before making an amphibious assault on the islands. In support eventually 52 merchant navy ships were requisitioned and speedily modified.
On 12 April, 1982 the UK declared an exclusion zone around the Falklands. On 2 May the task force deployed. It included five nuclear submarines and the two aircraft carriers HMS Hermes and HMS Invincible.
The Argentine cruiser General Belgrano was sunk by the submarine HMS Conqueror on May 2, 1982, with the loss of 323 Argentine lives. This ended the threat posed by the Argentine surface fleet. However, enemy aircraft and especially Exocet missiles continued to be a lethal thread.
The loss of HMS Sheffield pointed to errors and highlighted the dangerous lack of point-to-point air defence. Also, multiple targets confused the missile systems and made them ineffective. On 18 May the amphibious force assembled and an SAS commando landed and destroyed 12 Bukhara aircraft. This was followed by the main amphibious landings on May 21, 1982 at San Carlos Water on East Falkland in "Operation Sutton."
The landing comprised Army, Royal Marines, and Parachute units with support from the Royal Navy and Royal Air Force. Col. Porter emphasised what a feat it was. The troops had to march with all their heavy supplies 25 miles over rough terrai. practically all their helicopters had been lost during a major accident on Ascension Islands.
One of the decisive battles was fought by the 2 Bn Paras, led by Col. H. Jones, at Goose Green, despite being heavily outnumbered by 1000 dug in Argentines. Eventually, the surrender was signed on 14 June 9.30 pm During the ensuing discussion Col Porter pointed out that, surprisingly, the overwhelming proportion of Argentine troops were poorly trained and unmotivated conscripts. This led to the question whether the Argentine military Junta was feeling fairly sure that there would not be a decisive response from Britain.